Our caravans has everything you need for a comfortable stay. The living area is cosy and spacious. Heating is provided by a feature gas fire, and central heating and is also double glazed. There a TV with freesat channels and the van has smoke detectors and carbon monoxide detectors.
Our caravans boasts kitchen equipped with a gas oven and hob, microwave, kettle, toaster, coffee maker fridge freezer, iron and ironing board and a full inventory of kitchen utensils.
There is one double master bedroom, with a built-in wardrobe and overhead storage. Two separate twin bedrooms in our 3 bedroom caravan, suitable for up to 6 people. Pillows, quilts, sheets and bed covers are provided.
The bathroom has a large shower unit, wash hand basin and toilet.
Our 2 bedroom caravan suitable for 4 people boasts the same features as our 3 bedroom however it has a bigger master bedroom with en-suite.
Our caravans are strictly a NO SMOKING, no pet caravans.
Prices start from £500, please call 01766 770736 or email bookings@barcdy.co.uk for more availability and prices.
Check Availability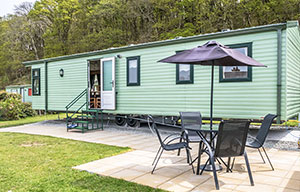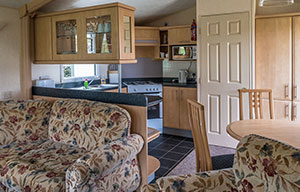 We are sorry that dogs cannot be accommodated.
Barcdy is ideally located for exploring Snowdonia and the rest of North Wales.
We have prepared a printable PDF guide to nine local walks: [ download here ]